F
inally back into the real world, my stomach decided to forgive me (by mid afternoon today) for this past weekends splurges. Ok tummy, I will remember you are in charge! LOL
Today's Food Log for Tuesday, August 18, 2009
B
reakfa
s
t: (0 pts)
Not typical of me to skip breakfast but still nursing a very angry tummy
Lunch: (12 pts)
Buffalo Chicken Wrap & peanut butter chocolate ice cream sandwich dessert
3 pts - Wheat Wrap
3 pts - 3 oz. shredded chicken breast w/hot sauce
2 pts - Shredded Low Fat Mozzarella Cheese
2 pts. - Ranch
0 pts. - lettuce
0 pts. - jalapeno peppers
0 pt. Cranberry Water
2 pt. Peanut Butter Chocolate Skinny Cow Ice Cream Sandwich
Dinner:
(2 Pts)
Bruschetta Boca Burger w/Ranch


1 pt. Bruschetta Boca Burger
1 pt. Arnold's Sandwich Thin
0 pt. FF Ranch Dressing
0 pt. Cranberry Water
Snack: (1 pt)
2 pts. Peanut Butter Chocolate Skinny Cow Ice Cream Sandwich
Late Extra Meal: (6 pts)
4 pts. 2 - Smoked Turkey & Cheddar Sausages
2 pts. 2 - Lite rolls
Total used 21 of 29 allotted Pts
5 or more fruits & veggies
2 of 2 "healthy"Oils
(I take Flaxseed Oil supplements now for this)
Multi-Vitamin
8+ Water/Water Equiv.
Whole Grains/High Fiber
Dairy
Exercise
-
(back in action with water walking/jogging & water upper body workout)
WE CAN DO THIS, TOGETHER..
see my "other" weight loss blog where we share recipes, new items to try and more inspirations!
Like this article? Twit it to your followers!
Who Else Helps me get healthy?
These are just a few......
1.
Check out the Fab Fatties Challenge #3 too!
2.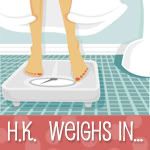 3.
BKJEN
4.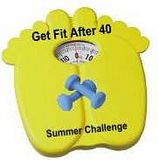 5.
6.Sean Anderson the formerly 500lb man!
Diary of A Winning Loser