After a bad Saturday, I decided it's back on track IMMEDIATELY for me!
Today's Log for Sunday, May 31st:

Breakfast: (7 pts)
2pt Special K Bar
5pt Naked Juice
This is truly my fave "breakfast"... a Naked Juice & 2 Pt. Bar
Lunch: (7 pts)
1 pt English Muffin (lite)
1 pt Olive Oil
1 pt Presidents Brand FF Feta Cheese
0 pt Salsa
(toasted all above in my toaster oven)
0 pt Unsweetened Iced Tea
2 pt Fit & Active Fiber One Oats & Chocolate bar
2 pt Klondike Slim-a-Bear Ice Cream Bar
Dinner:
(9 Pts)
9 pt Pierogies (@ 1 pt each - 9 total, yes I was eatin' big! These are one of my fave comfort foods, cooked with little to no margarine but TONS of onions!)
Snacks: (8)
2 pt Fit & Active Banana Split Ice Cream Sandwich (from Aldi's)
3pt 3 leftover
pierogies (told u I am addicted & they are my comfort food)
3 pt ww mixed berry smoothie w/frozen banana
Total 31 of 32 allotted Pts
5 or more fruits & veggies
1 of 2 "healthy"Oils
Multi-Vitamin
8+ Water/Water Equiv.
Whole Grains/High Fiber
Dairy
Exercise
(for me this is active movement above & beyond "normal" as I am physically limited right now from cancer)
Today it consisted of jumping up and down yelling at the TV as my Penguins played, or didn't really play so well? LOL
Check out my other blog for recipes, ideas and fun stuff:
Using My Juicer
Who Else Helps me get healthy?
1.
2.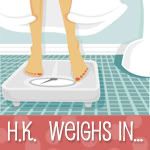 3.