This is my way of keeping track. You can gander at it for ideas or ignore it, either way it's a way for ME to keep accountable. Hopefully I'll remember to do this daily! I'm currently attempting to do the Weight Watcher program but have decided that financially I can't afford to continue paying the cost (it is WELL worth it but I simply cannot afford it right now). So for this reason I'm taking what I've learned from them and added some of my own thinking, own ideas and ideas I've gathered around the net!
Today's Log for Wednesday, May 27th:

Breakfast: (5 pts)
2pt Homemade Melon, Kiwi, Pineapple Juice from my juicer
2 pt Toasted Wegman's Honey Apple Oat Bread
1 pt Omega 3 Light I can't Believe It's Not Butter
Lunch: (9 pts)
6 pt Wendy's Baked Potato w/LF Sour cream & Chives
3 pt Grilled Chicken breast (naked)
0 pt Lettuce
0 pt Unsweetened Iced Tea
Dinner:
(10 Pts)
8 pt
Apple Honey Oat Turkey & Feta Panini
4pt 2 slices apple honey oat bread (Wegmans, regular bread)
2 pt 2tsp olive oil
1 pt 2 oz. 98% FF Turkey
1 pt 1 oz. FF Feta (President's Brand)
0 pt Lettuce

2 pt Pringles Light Fat Free Chips (15 chips)
0 pt Crystal Light drink (2)
Snacks: (12)
(ok, not so healthy but I've been having such a craving for freaking Twizzlers!)
12 pt Twizzlers
Total 35 Pts
5 or more fruits & veggies
2 "healthy"Oils
Multi-Vitamin
8+ Water/Water Equiv.
Whole Grains/High Fiber
Exercise
(for me this is active movement above & beyond "normal" as I am physically limited right now from cancer)
Check out my other blog for recipes, ideas and fun stuff:
Using My Juicer
Who Else Helps me get healthy?
1.
2.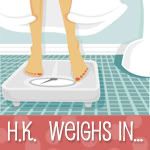 3.