H
appy
Monday!
T
his past week, actually 2 weeks, have been very harsh on me physically. So I must apologize for my lack of attendance on the net but "off the net" I'm still kicking fat's butt!
I
had my Weigh-In today and
lost 0.4 lbs
.! It's a little disappointing, because anything under a pound tends to sound so "blah", but the reality is that my pain levels have kept me from moving AT ALL! Yet, I stayed OP and didn't gain! So THAT is a real PLUS and makes me happy for the week's weigh in! I could have very easily went in the other direction and had a gain! So WOOOHOOOO for ANY loss!
Today's Log for Monday, June 8th:

Breakfast: (7 pts)
5 pt Naked Juice
2 pt Special K bar
Lunch: (7 pts)
7 pt McDonald's McChicken w/o mayo
0 pt Unsweetened Iced Tea
0 pt McDonald's Side Salad w/FF dressing
Dinner:
(10 Pts)
4 pt Wegman's Apple Honey Oat Bread (toasted)
1 pt 98% FF Smoked Turkey
3 pt Havarti Peppadew cheese (1 oz)
0 pt Homemade bruschetta
2 pt Special K crackers (17)
*The ingredients I chose for this sandwich were, seriously, well worth the points. The Honey Apple Oat Bread at 2 pts/slice gave the sandwich so much texture and flavor that making it on a plain piece of high fiber 1pt bread would have been an insult to the sandwich itself. The full, bountiful flavor of the Havarti Peppadew cheese added a great touch & as always the Wegman's brand "off the bone" style smoked turkey is so low in points & doesn't mind sharing the limelight as star of the show in this sandwich!
Snacks: (2)
1 pt Hostess 100 calorie pack strawberry mini cupcakes
1 pt Popsicle Brand Sugar Free Fudgsicle
Total 26 of 32 allotted Pts
Notes:
Another huge pain day, but not nearly as bad as the past week or so. I often, when having a bad MS day combined with a high pain day, won't eat much due to the pain levels & simply just not being able to move around. My tummy tends to just not be ready for food and I listen! So I don't feel "bad" about not meeting points on these days.
5 or more fruits & veggies
2 "healthy"Oils
(not achieved according to WW rules but I've decided to supplement)
Multi-Vitamin
8+ Water/Water Equiv.
Whole Grains/High Fiber
Dairy
Exercise
(I've begun an "upper arm" series of workouts that my son is helping me with to keep those "wings" from getting any worse as I lose and also to build up what I have. It's not strenuous, nor is it with heavy weights (2 lbs each). Some days I do reps of 10, some 15, some only 5 but I try to get in the workout daily. I also will be starting Yoga, geared towards people with MS (balance issues)
Check out my other blog for recipes, ideas and fun stuff:
One Day At A Time
Who Else Helps me get healthy?
1.
2.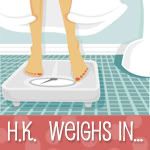 3.