T
oday my BFF from college left and I KNEW I had to get back on track. I had an extra long 4 day weekend, beginning Friday at Primanti's for a Primanti Pittsburgh Style Sandwich! Oh to die for... didnt' even TRY to figure out points, don't care! LOL And ended the weekend with Krispy Kreme (Hey, my BFF & daughter didn't have them nearby in Rochester... I had to give in)! BUT.. the good part is I'm back in action AND my belly is telling me I better stay there. I was sick as a dog all day today. Couldn't even hit the gym! Now you KNOW I'm sick! LOL
Today's Food Log for Monday, August 17, 2009
B
reakfa
s
t: (6 pts)
Naked Juice
6 pts. Naked Juice - Blue Machine
Snack: (2 pt)
2 pt Giant Marshmallow - pink strawberry
(it was my last real "indulgence" of their stay.. let me have it? LOL)
Lunch: (8 pts)
Turkey Cheddy Brots on bun & peanut butter chocolate ice cream sandwich dessert
4 pts - 2 Smoked Turkey Cheddar Brots
2 pt 2 -Lite Buns
0 pt. Diet Swiss Sweet Tea (not bad)
2 pt. Peanut Butter Chocolate Skinny Cow Ice Cream Sandwich
Snack: (1 pt)
1 pt Banana
Dinner:
(16 Pts)
Turkey Santa Fe Sandwich - Eat 'n Park


This was my falter point - I love Eat'n Park's Nutritional Info site where you can make your own sandwiches, meals add & deleting items, getting the final correct N.I. for that item, made to your order! It Rocks!
16 pts Turkey Santa Fe Sandwich - no mayo
0 pt. Cranberry Water
Total used 29 of 29 allotted Pts
plus
4 of 35 Weekly Pts
5 or more fruits & veggies
2 of 2 "healthy"Oils
(I take Flaxseed Oil supplements now for this)
Multi-Vitamin
8+ Water/Water Equiv.
Whole Grains/High Fiber
Dairy
X
Exercise
-
didn't achieve (sick to stomach, no gym)
WE CAN DO THIS, TOGETHER..
see my "other" weight loss blog where we share recipes, new items to try and more inspirations!
Like this article? Twit it to your followers!
Who Else Helps me get healthy?
These are just a few......
1.
Check out the Fab Fatties Challenge #3 too!
2.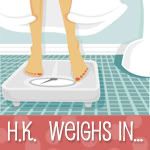 3.
BKJEN
4.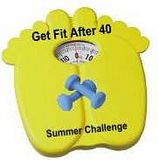 5.
6.Sean Anderson the formerly 500lb man!
Diary of A Winning Loser