T
oday's definitely a "shopping" day. I'm out of everything! Add to that almost an entire 7 days now of no "gym" (closed this week, last week chronic pain was simply too intense to even water walk) and I'm really determined I have to stay very much on plan.
I
've been finding my self late at night (after my final post) still hungry. I try drinking something to fill me and I'm not sure why it's happening but I'm not feeling in control with it. Since I've had minimal groceries left I've eaten graham crackers or something like that to try to fill the void but I'm not feeling in control. Oddly enough, I'm wondering if it's the LACK of "exercise" at the intensity levels I've been able to obtain in the water that are creating the change in my appetite? Whatever it is, it's ticking me off... and you don't want to make me angry! LOL
I
've also been going to bed early quite often with migraines. Trying to figure out why but I guess it helps me not go OVER on points? LOL
Today's Food Log for Monday, August 3, 2009
B
reakfast: (4 pts)
1 pt. Arnolds Sandwich Thin (toasted
1 pt. Laughing Cow Cheese (lite)
2 pt. Banana Cream Pie Yoplait yogurt
Snack: (2 pt)

2 pt Fiber One Oats & Chocolate bar
0 pt Strawberry SF Drink (generic brand like Crystal Light)
Lunch: (4 pts)
Sauerkraut Hot Dog with small side salad
2 pt Oscar Mayer Light Hot Dog
1 pt. Light hot dog bun
0 pt. sauerkraut
0 pt. Salad Mix (lettuce mix)
0 pt. FF dressing
1 pt. FF Shredded Cheddar
Dinner:
(7 Pts)
Gr
illed Chicken 'n Cheddar & Ranch Salad w/fries on top
3 pts Alexia Sea Salt French Fries
3 pts Grilled Chicken Breast w/cumin & paprika
1 pt. Fat free shredded cheddar cheese
0 pt. Salad w/FF Ranch dressing
(make my own "ranch" w/fat free sour cream & dry ranch mix)
0 pt. Strawberry, Orange, Banana Drink
(sugar free)
Snack: (1 pt)
1 pt Double Chocolate Vita Muffin
Total used 18 of 29 allotted Pts
5 or more fruits & veggies
2 of 2 "healthy"Oils
(I take Flaxseed Oil supplements now for this)
Multi-Vitamin
8+ Water/Water Equiv.
Whole Grains/High Fiber
Dairy
Exercise
(did minimal "movement" without having my water walking available - VERY frustrating!)
WE CAN DO THIS, TOGETHER..
see my "other" weight loss blog where we share recipes, new items to try and more inspirations!
Like this article? Twit it to your followers!
Who Else Helps me get healthy?
These are just a few......
1.
2.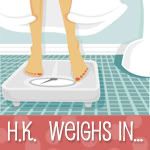 3.
BKJEN
4.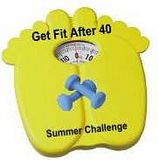 5.
6.Sean Anderson the formerly 500lb man!
Diary of A Winning Loser