A

nother day of running so I dined out for lunch. I find that I'm often disappointed in salads at "fast food" restaurants so once in a while I will opt for a higher calorie/point, more substantial and filling sandwich. I try to keep with the low fat meats, no cheese & low or no fat dressings (especially no mayo). I seem to be running hungry a lot more lately, which means time for me to look at the past blogs and see what I'm doing different. I'm going to guess it's choosing things like a 9 pt sandwich for lunch as opposed to eating at home and getting a TON more food for those points!

Today's Food Log for Thursday, August 6, 2009
B
reakfast: (6 pts)
6 pt. Naked Juice (Mighty Mango started my day for me today)
Snack: (2 pt)


2 pt. Chocolate Crumpet Pastry (
click to see the recipe on my blog
)
Lunch: (9 pts)
Tim Horton's Roast Turkey Club Sandwich on wheat
9 pt Roast Turkey Club Sandwich, roasted turkey, bacon, lettuce, honey mustard on whole wheat bun
0 pt. Sobe Water
Snack: (2 pt)
2 pt Chocolate Peanut Butter Skinny Cow Ice Cream Sandwich
Dinner:
(10 Pts)
Quarter Pound grilled burger, french fries, corn on the cob


5 pts Wegman's 95/5 Ground Beef Burger Patty, grilled
1 pts Flat Out Fold over bread
3 pts Alexia Yukon Gold Sea Salt Fries (24 fries per serving)
1 pts 1 Ears of Corn on the Cob
0 pt. Sobe Water
Total used 29 of 29 allotted Pts
5 or more fruits & veggies
2 of 2 "healthy"Oils
(I take Flaxseed Oil supplements now for this)
Multi-Vitamin
8+ Water/Water Equiv.
Whole Grains/High Fiber
Dairy
Exercise
(did minimal "movement" without having my water walking available - VERY frustrating!)
WE CAN DO THIS, TOGETHER..
see my "other" weight loss blog where we share recipes, new items to try and more inspirations!
Like this article? Twit it to your followers!
Who Else Helps me get healthy?
These are just a few......
1.
2.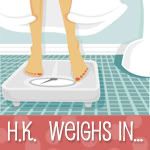 3.
BKJEN
4.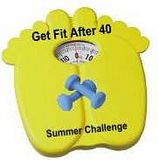 5.
6.Sean Anderson the formerly 500lb man!
Diary of A Winning Loser