I
haven't done TOO bad keeping on track over the holidays but figured getting back to blogging & keeping track of my intake can't hurt. I do know that taking the AssistU during the holiday season allowed for me to really, really, misbehave and not have any huge gains. Thank GOD!



I

must confess, getting "back on the wagon" though, is not an easy feat! I am constantly feeling hungry and I know better because I'm eating enough, just my body's been used to OVEReating and the wrong foods! Add to all this the fact that it's my PMS week... oh boy, this week's going to be a tough one!

Today's Food Log for Monday, January 04, 2010

B
reakfa
s
t: (3 pts)
Kellogg's Waffle - low fat/multi grain


2 pts. 2 Waffles
1 pt. light margarine
0 pts. cinnamon/maple sprinkles
0 pts Green Tea



Lunch: (6 pts)
Ham 'n Swiss Pretzel
4 pts. - Soft Pretzel
(yes, this is a lot of points for the "bread" but I tend to allow points for breads and cut elsewhere... you can always use an Arnolds Sandwich thin to make yours at 1 pt. as opposed to 4 pts.)
1 pt. - 1 oz. 98% FF Ham
1 pt. - 2% Low Fat Swiss - 1 slice
0 pts. - Iced Green Tea with Blueberry
(nuked frozen pretzel then added ham & cheese on top & nuked until melted)
Dinner:
(8 Pts)
BBQ Pork Sandwiches w/tossed salad
2 pt. 2 Arnold's Sandwich Thin, toasted
4 pts. 2 - slices pork loin
2 pt. bbq sauce
0 pt. salad
Snacks
: (3 pts)
1 pt. Wegmans Lite Fudgesicle
1 pt. Arnold's Sandwich Thin (toasted)
1 pt. 2% Cheddar melted on top of sandwich thin
0 pt. 1 tsp. fresh salsa
7 pts cheesecake
(measured out to come out to about 7 points cuz that's what I had left! LOL)
Total used 27 of 27 allotted Pts
4 of 5 or more fruits & veggies
2 of 2 "healthy"Oils
(I take Flaxseed Oil supplements now for this)
Multi-Vitamin
AssistU Herbal Supplement
8+ Water/Water Equiv.
Whole Grains/High Fiber
Dairy
X
No Exercise
WE CAN DO THIS, TOGETHER..
see my "other" weight loss blog where we share recipes, new items to try and more inspirations!
Like this article? Twit it to your followers!
Who Else Helps me get healthy?
These are just a few......
1.
Check out the Fab Fatties Challenge #3 too!
2.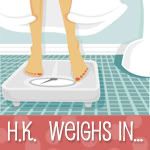 3.
BKJEN
4.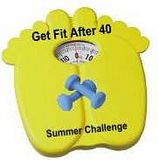 5.
6.Sean Anderson the formerly 500lb man!
Diary of A Winning Loser